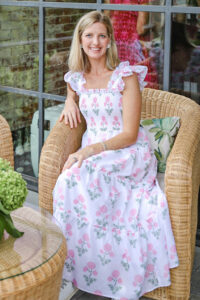 Name: Mary Lovett (Varner) Beck
Family: Jeff (husband), daughters Sally (14), Wynne (12) and Lovett (10)…..and a whole lot of sisters, brother-in-laws, nieces and nephews. And one Gigi (my mother and personal hero). And we all live in Columbus!
Hometown: Columbus, Georgia
Current Town:  Columbus, Georgia
What Years at UGA: 2001-2004
School/Degree: Public Relations in Grady School of Journalism
Profession: For the past few years I've worked in residential interior design, which has always been a passion of mine. In 2021, my youngest sister (who was in marketing at the time) and I combined our shared interests to form our own business, Varnish Collection. We offer wicker and rattan furniture and accessories for the home. Our pieces are handmade by artisans using all natural materials. We have a deep appreciation for unique design and family tradition (so much so that we based the name of our company off our maiden name, Varner). We strive to help others create beautiful and memorable spaces in their own homes.
Book: The Giving Tree, Cutting for Stone, Pillars of the Earth (1)
Magazine: Anything "home" or "design" – I stash them in a pile until I can quietly pore over every page.
Podcast: How'd She Do That, This American Life and Nothin' But Fine.
Blog: I'm afraid I've actually shifted from blogs back to books!
Instagram: @charliemackesy, @natgeo, @tanksgoodnews and too many artists and designers to count. (2)
Brand: Tuckernuck. (3)
Fashion designer: Buru – Morgan is a style icon, mother, wife, super smart business woman and a good person. Is she even real?
Interior designer: Chenault James and Charlotte Lucas – I think they are artists more than they are designers. (4)
Chef: Anyone who cooks for me.
Historical figure: She may not be in history books, but my grandmother (whom I'm named for) is a constant inspiration in my life.
Quote: Every vacation we took growing up, my Dad would say, "we ain't here to get no sleep, lose no weight or save no money." If that's not a good motto I don't know what is.